Dear friends and family,
Therefore, my beloved brethren, be ye stedfast, unmoveable, always abounding in the work of the Lord, forasmuch as ye know that your labour is not in vain in the Lord.   1 Corinthians 15:58
It has been an extra busy couple of months.  The busyness never stops.  That's how we like it!
Ministry News
Church has been steady.  We continue to see people saved and baptized and are blessed to see spiritual growth in our people.
Angel & Carmen and their family are examples of the miracle life- changing power of the Lord in lives.  Carmen was saved and began coming to church and God began to work.  After some time of resistance, Angel was saved.  They had been living together for years and they wanted to be right and were married.  They now come faithfully to church and Carmen sings in our choir.  I had the privilege of counseling with them for several months and they are being discipled by one of our assistant pastors.  God can and does change lives.
Ronald is another blessing.  He was working on the road in front of Efata several months ago and was led to the Lord by one of our workers.  He is a complete sponge for the things of God.  He tells me almost every Sunday, "Muy corto la predicación. ¡Me edifica!" (The preaching was too short.  It builds me up!)
Sunday November 7th we had our third annual "Family Day" at Efata.  We always take pictures of all the families who come and give a prize to the largest family.  We also have dinner on the grounds.  What a wonderful day this was!  We did not have anyone saved, but there were over 361 people in attendance with a great deal of new prospects.  The altar was full.  Our special speaker was Pastor Victor Paez from Caracas, Venezuela.
In a few weeks we will have graduation and then begin our summer months here.  Many of the students will be going home and our orphans will be with us.  We also use this time to prepare for our "Fires of Evangelism Conference".  This is a tremendous conference with pastors who come from all over Peru and other countries.  This is the last week of January.  Please pray with us that God would provide $2000 in a miraculous way to help pay the passage for many pastors who otherwise will not be able to come.  Every year God has provided these extra funds and we pray He will touch His people to help in the investment in pastors this year as well.
We have opened a small snack shop to the public to help generate funds for Efata and as an outreach effort to the community.  We have seen over seventeen ladies saved through the Crisis Pregnancy Center since May! Pray for this ministry.  God is GOOD!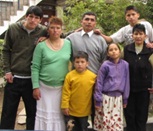 [br]Angel, Carmen, & Family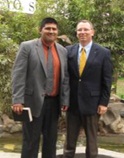 [br]Ronald

[br]The Snack Shop
Family News
Wow!  Jennifer is growing!  She is such a doll.  I just love having little ones in the house; especially when there are others to take care of the changing and feeding!  Jessica has me wrapped fairly tight.  Joel is growing and becoming quite an escape artist!  We have to keep several eyes on him.  He loves to get up early and "bake"!  It is always interesting to go into the kitchen when he gets up before anyone else.  Joseph is doing great in college and all of the other kids are doing well.
Thank you once again for allowing us to represent you here in Peru.
Joe & Lisa,
Joseph, Julianne, James, Jared, Judson, Joy, John, Joel, Jessica, & Jennifer

P.S.  EFATA on FACEBOOK – Visit our page! Most things posted are posted bilingually.  Just look in the comments to a post for the translation.   This the best way to keep up with the daily "do das" of Efata Ministries.
Of course we still have our blog.  I am not much of a blogger but we do post our prayer letters there and other updates from time to time.