Dear Friends and Family,
But my God shall supply all your need according to his riches in glory by Christ Jesus.
Philippians 4:19
These past two months have been busy and exciting. As you read our letter you will see both how God has supplied, and a pressing need. We look forward to seeing how He will continue to supply through his wonderful people.
Ministry News
In March we celebrated our first anniversary for our Tablada mission. God has really blessed this ministry. Up until recently, they had Sunday evening and Wednesday evening services. Beginning in March, however, we added Sunday morning services. This addition has pulled several of our leaders out of Efata on Sunday morning to be a part of the new work, and God has blessed this with more visitors at every service in Tablada, and many saved. We are seeing new converts and visitors here at Efata every Sunday as well, and the attendance has been fairly stable.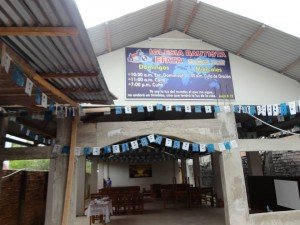 In April, Associate Pastor Robert Sutton from Winker Road Baptist Church in Fort Myers, FL, came down and preached the anniversary service of our mission work in the jungle city of Pucallpa. What a blessing! God used him to help us raise over $12,000 to build a new church building and parsonage four years ago, and we were able to have the dedication service of the new church building during this anniversary. Six people were saved, four deaf and two hearing. The congregation in Pucallpa was greatly encouraged that Brother Sutton came to preach and visit. He also raised an additional $2,100 to repair the damaged parsonage roof that is leaking heavily when it rains. What a blessing this is for Pastor Vasquez and his family!
Our school and home for the deaf is growing and blessed. We have a good increase in students this year, from kindergarten all the way through secondary school. Your gifts to help us teach and raise these children, from little Danilo, (3) thru Francisco (19), are investments in lives and make a difference that COUNTS. Thank you! Each month, both children and parents come to know Christ through this ministry.
As you know, the Deaf department of Trinity Baptist Church in Jacksonville, FL have been organizing a "Big Box" project to ship needed supplies to us. We have asked for your help previously in a special letter sent out regarding this.
We are so thankful for those of you who have responded and given items to put in the container! The items for the school, home and church are very needed and appreciated.
We have been given 460 Bibles from Beams Bibles, and we have a pallet of tracts, but we have learned that the humanitarian government organization which is shipping the "Big Box" is not allowed to deliver any religious literature because they are a government organization. Please pray that God provides the funds to have these shipped to us separately. We need the Bibles and Tracts for our church planting annexes and missions, as well as for some national pastors. We know God will get them here somehow.
Please pray for us as we begin the ground work to start a new church plant in an area call José Galvez. We are in the initial "cost counting," praying and planning stages. We are praying that the Lord will allow us to actually begin the work in January 2015. We hope to begin home Bible studies and targeted soul-winning in this area in the next few months.
Lisa and I will be flying to the jungle city of Iquitos with several members of our team to plan and prepare to revive a work with the Deaf in Iquitos that was once a part of our ministry but was estranged several years ago. Please pray as we work to reestablish our mission work there as well.
Family News
The family is well. We are missing Julianne but are grateful for how God is working in her new life with our son-in-law Frank.
Continue to pray for Joseph on deputation and James in college. Lord willing, in August I will be bringing Jared up to Bible College in Fargo, ND.
It is quite an adjustment having several of our children "out of the nest" and still having very young ones in the home. What a blessing!
God Bless,

Bro. Joe & Lisa,
James, Jared, Judson, Joy, John, Joel, Jessica, Jennifer