Dear friends and family,
"If any of you lack wisdom, let him ask of God, that giveth to all men liberally, and upbraideth not; and it shall be given him."  James 1:5
It has been a wonderful few months with a great deal of activity and blessings.  We have had many decisions to make and are grateful to God for each blessing and response to our prayers.  As the verse above states, God desires to give us his wisdom for the tasks he has set before us.  All we need do is ask.
Ministry News

These past months have gone by quickly.  I had the privilege to preach an anniversary conference for a church in Trujillo which was a great blessing.  I always enjoy when I can go to another city in Peru and preach and teach the precious Word of God.
We also had two groups from churches in the States that were a great blessing to us in helping with infrastructure construction repair and ministry.  it is always an honor to host mission trips from the States.
One of the greatest blessings for me has been an open door to preach to the military here in Lima.  Every week I go to one of the bases here and preach to a company of soldiers, teaching them principles and ethics from the Bible.  What a joy.  Several of these soldiers have been saved and some have been able to come to church on Wednesday nights here at Efata.  We are praying that God will give us more open doors in this area.  We have been seeking the opportunity to teach in the police academy for a long time also.  Please pray for this.  I will be tackling this with renewed effort when we return from our furlough.
Our church is thriving and excited about reaching people for Christ.  Many are inviting their loved ones and friends, and we constantly have deaf and hearing visitors.  We have seen souls saved, and baptized. We are looking forward to sharing with you soon.  Speaking of furlough, we love you all and greatly wish to see you and report on what the Lord is doing here at Efata through our ministry.  I have been unsuccessful in reaching many by phone. If you can, please call me back or e-mail me if you prefer at jkotvas@efata.org.
We are still working on securing our land for the new ministry that we are planning to start in Chancay, about two hours north of us.  We are planning a church, camp, pro-life center and other ministries for this new area. Several people in the community are thankful that we will be coming in and have expressed interest in the new church plant.  Because of the wonderful price of the land there, many of our church members are purchasing their own land there as well, and some of them plan on moving there and helping plant the new church. Please pray that all issues will be cleared with this new land.
Family News: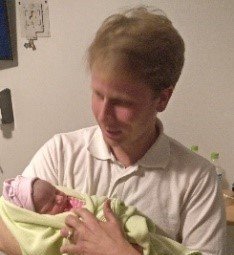 We have a new granddaughter! Esther Catherine Emerald Kotvas was born on Monday, Oct. 16th.  I cannot tell you how thrilled I am.  This will be our fourth grandchild and first granddaughter.  Julianne will be giving birth, Lord willing in December, to our fifth grandchild and second granddaughter.  We are grateful to the Lord for these gifts.
Judson is in Wisconsin working as a recruiter's assistant for a month then will continue in 29 Palms, California in technical training with the Marine Corps, and Jared is serving at his first permanent duty station in Panama City, FL.  We are very proud of them both.  It looks like they both will be able to come to South Florida for Christmas this year.  Joseph and Zulema will be the only ones not able to come this year. James will be able to come down from Bible Seminary as well.  We will miss Joseph, Zulema and the babies.
Thank you all once again for your care for us and the ministry of God in which we are privileged to serve. We hope to hear from you soon and look forward to scheduling visits with you as the Lord allows.
Blessings to all,

Joe & Lisa Kotvas
Joy, John, Joel, Jessica, Jennifer