Dear Friends and Family,

But watch thou in all things, endure afflictions, do the work of an evangelist, make full proof of thy ministry.

2 Timothy 4:5
This has been an incredible time here at Efata with much happening. The Lord has been working and doing wonderful things amongst us and we rejoice every day to serve Him as we endeavor to "make full proof" of the ministry that God has given us on the mission field of Peru.
Ministry News
In July and August over 260,000 Gospel tracts were distributed here in Lima as the city hosted the Pan-American Games. Soul-winners from four different churches, including Fargo Baptist in ND, Victory Baptist in Wichita Falls, TX, Lehigh Valley Baptist Church in Emmaus, PA and Metropolitan Baptist Church in Bloomington, MN—26 people in all—came down and along with members of Efata Baptist Church distributed these tracts. What a great blessing.
We had the privilege of supporting International Baptist Church with their Pastor's school this year here in Chorrillos in Lima. For three nights, we hosted about 70 pastors who came in from all over Peru here at Efata. The conference was a great inspiration and help to these pastors. Our choir sang one of the days and we interpreted the services for our Deaf and Deaf pastors.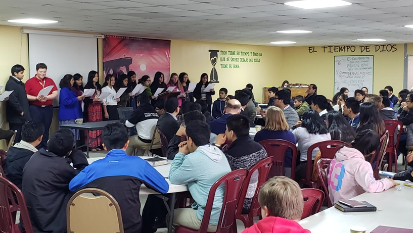 Also in September, a group from Lighthouse Baptist Church in Dawsonville, GA came down and were a great blessing. Pastor Blackstock preached and taught a married couple's mini retreat and preached in two of our churches as well as preaching the first night of our youth conference. This was an extremely impacting and insightful time for the couples and the youth. The group was a great encouragement and blessing to us all. We had several young people rededicate their lives, and several people were saved while they were here.
Right after the wonderful visit and ministry of Lighthouse Baptist, we hosted a Spiritual Warfare Conference with Pastor Marvin Smith from Harvest Baptist Church in Fort Dodge, IA. What an incredible conference that was. In addition to the preaching each night, Bro. Smith took half a day to speak to our leadership team and encourage, challenge and assist them in understanding and identifying spiritual warfare principles and issues.
We can see God working in all these back to back ministry efforts as we have had several Deaf and hearing saved and baptized during these weeks.
We also had a special service on Sunday the 29th in the afternoon to honor the Deaf, as it was the designated "week of the Deaf" here in Peru.  It was great, and I was able to preach a special message to them of how God loves and cares for them and they are not a mistake.  There were over 100 Deaf in attendance.
Relating to our issues with the municipality regarding the tax situation, things have gotten a bit worse. The city here has frozen the school's local bank account. However, this was an illegal move as we still have an appeal in process and there was not notification beforehand. In addition, we have been responding to their previous communication within the legal timelines, but they have not responded back to our letters within that same legal requirement. We now have a lawyer helping us who is an expert in this area, and he says we have several good options as the city has abused its authority and is not operating in good faith. Please continue to pray as we work on this and investigate every avenue we have to solve this issue.
Our mission works in Tablada, Pucallpa, Callao, San Juan de Lurigancho and Chancay are doing well. Each has its unique needs and are at different stages in their development. As you pray, please lift these works up to the Lord.
Family News
Joy, our oldest at home, just turned 19. She is such a sweet young lady who is very involved in the ministry here with music and interpreting. She also works directly with our teen and young adult girls in the ministry here, all while doing a heavier than usual course load in order to finish up high school.
Greetings from Joy, John, Joel, Jessica and Jennifer. We had the blessing of having a visit from Julianne and Frank and our four Miller grandchildren for a week. They came from Florida for a visit, and what a wonderful week it was! Please remember Joseph and Zulema and their little ones and James and Ann and their little one in your prayers as they continue on deputation.
Thank you for your prayers, support and care for us as we plant churches, train Deaf and hearing, care for orphans and widows and see people saved and baptized here in Peru and beyond through our ministry's influences.
Blessings,